Apart from the stunning beaches, lush jungles, and plentiful adventures to be had, Playa del Carmen is home to so many incredible restaurants. From freshly caught, local seafood to delicious tacos to cute cafes to fine dining, this list covers the absolute best restaurants in town!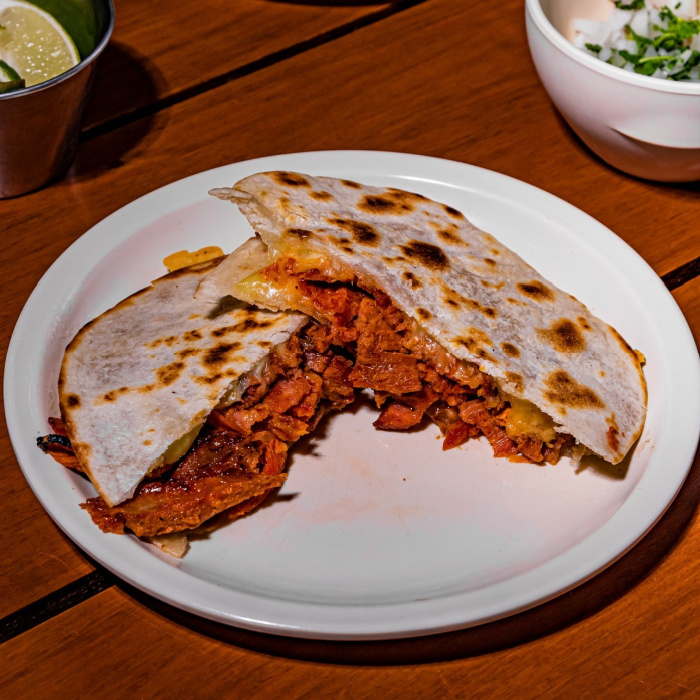 Don Sirloin's Taco Delights You Can't Miss!
Don Sirloin
Don Sirloin is a go-to spot for frequent visitors and locals, offering quick, cheap, and absolutely delicious tacos, in addition to friendly service. True to their name, they serve sirloin steak and sirloin tacos which get rave reviews, alongside a menu that highlights local flavors. They serve cocktails and beer but don't miss out on their traditional drinks like jamaica, horchata, and tamarind.
Its location and hours make it a popular late-night spot, too, so keep this place in mind if you're hitting the clubs and need to refuel!
Make sure your Playa del Carmen packing list covers all the bases!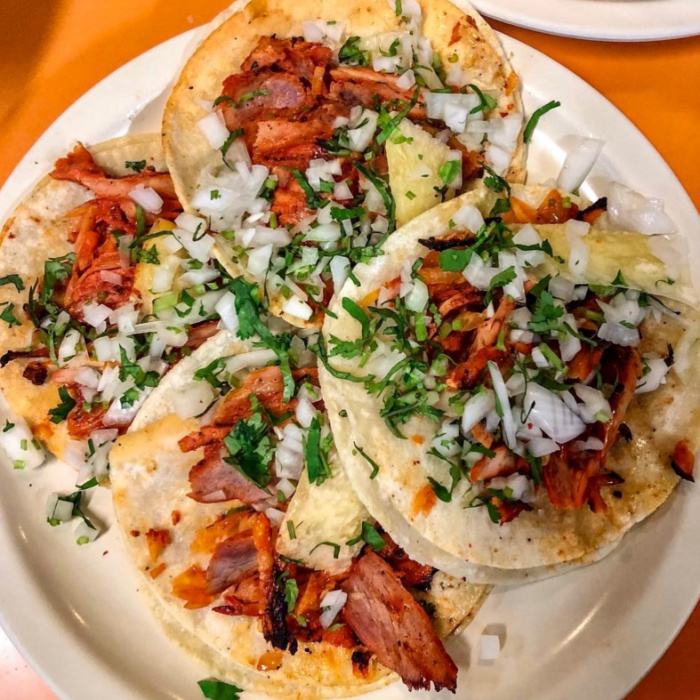 El Fogon's Delectable Taco Loco!
El Fogon
Tucked away from the busy streets, El Fogon has a fun, laid-back atmosphere and some of the best tacos in the city. The al pastor tacos are fantastic, the Taco Loco is a must-order, and everything down to the chips, guac, and tortillas is killer.
This restaurant is almost always busy, yet the staff are quick and nice as can be, and everything is super cheap, too, especially given the large portions. One visit to El Fogon won't be enough!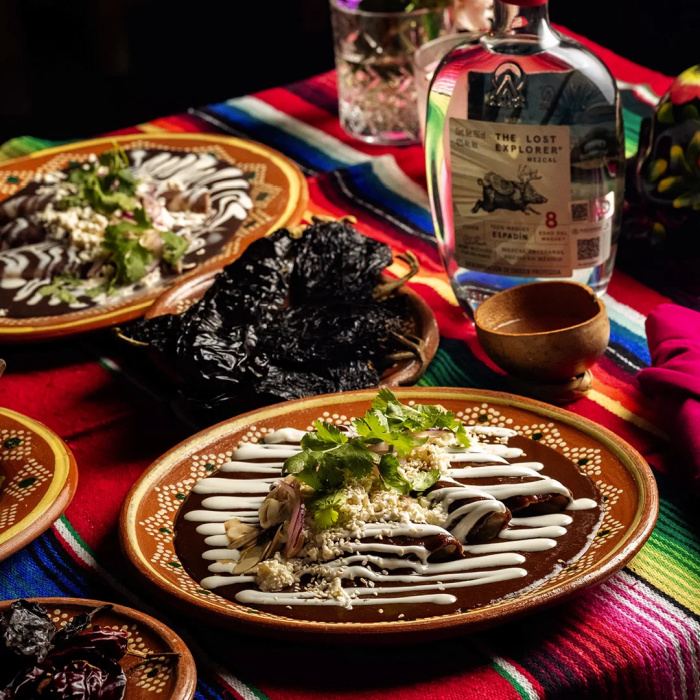 La Perla Pixian's Classic Mexican Gastronomy
La Perla Pixian
Said to have the best mixology bar in the Riviera Maya, you'll have an experience like no other at La Perla Pixian. They specialize in Mezcal, so you'll want to start your night off at the bar with some of their tantalizing cocktails while enjoying live music from local artists (and if you're lucky, you might catch a traditional dance performance)!
Located on a beautiful, tree-lined street in the center of town, La Perla Pixian seeks to reflect the rich culture and history of Mexico through a creative menu and a lively atmosphere. Highlights include the grilled octopus and the mole, and if you're an adventurous eater, you HAVE to try the roasted grasshoppers. It's also one of the few places you can try a pulque, Mexico's legendary ancestral beverage.
They're open for breakfast, too, offering fresh egg dishes, pancakes, chilaquiles, and more, plus delicious lattes and plenty of alternative milks.
Take a look at these Playa del Carmen must-pack items so you can be ready for anything!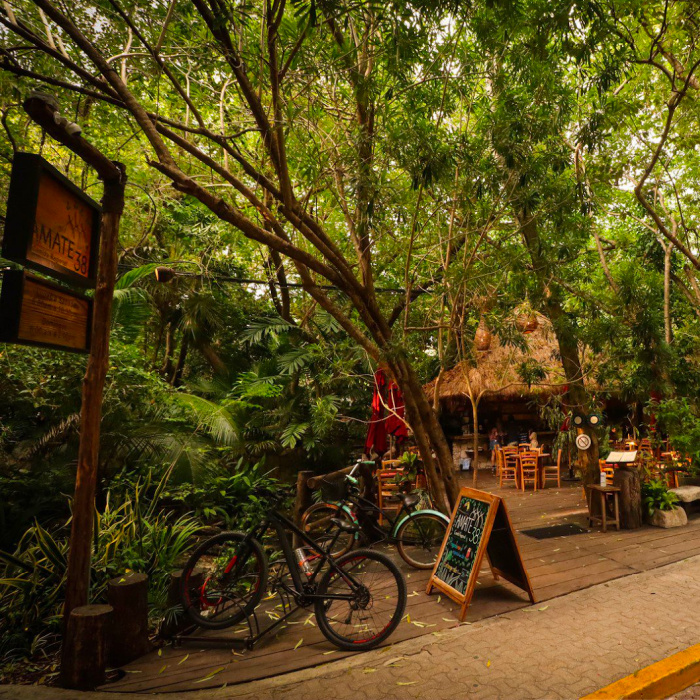 Amate 38's Island-Inspired Dining Ambiance
Amate 38
Known for its fresh and locally sourced ingredients, Amate 38 uses traditional flavors and artisanal processes to celebrate authentic Yucatecan cuisine. They serve a flavorful selection of seafood and meat dishes cooked with smoke and charcoal (the charcoaled tuna steak is to die for), in addition to a mouthwatering vegan menu that includes tamales, papadzules, and even ceviche!
The breakfast menu boasts egg dishes you've likely never experienced before, fresh fruit, freshly squeezed juices, and aguas frescas. Tortillas are made freshly on-site, too. The restaurant is right off 5th Avenue and steps away from the beach, yet tucked away among lush trees to make you feel like you're dining in the jungle.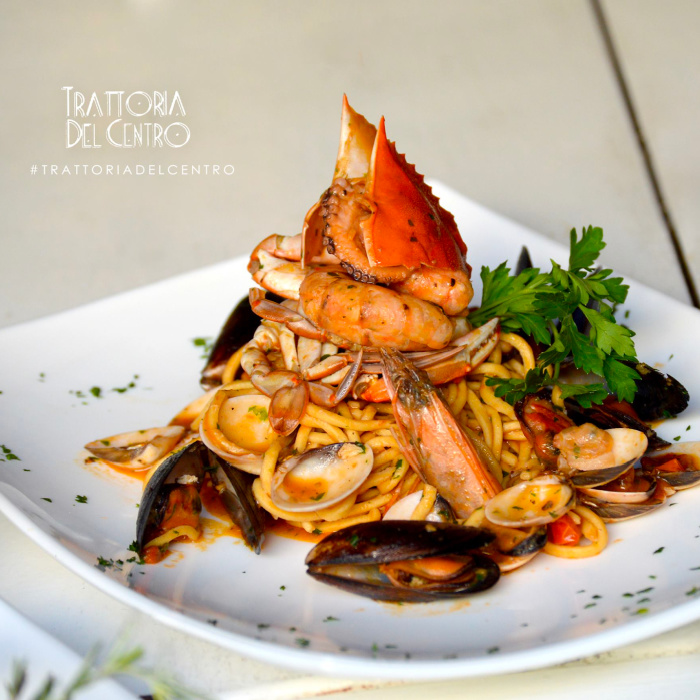 Trattoria Del Centro's Authentic Italian Cuisine
Trattoria Del Centro
Italian food may not come to mind when you think of Mexico, but there's actually a huge Italian community in Playa! So if you're in the mood for some fresh seafood pasta or wood-oven Neapolitan pizza, Trattoria del Centro definitely deserves a visit! It might just be the best Italian in Playa del Carmen, with authentic food, fresh ingredients, large servings, and friendly service.
Located right in the center of town, it's in a walkable area that's easy to get to, yet it's nice and quiet, and its charming atmosphere is enhanced with live music.
If you're traveling to Yucatán, be sure to add these must-visit places to your itinerary!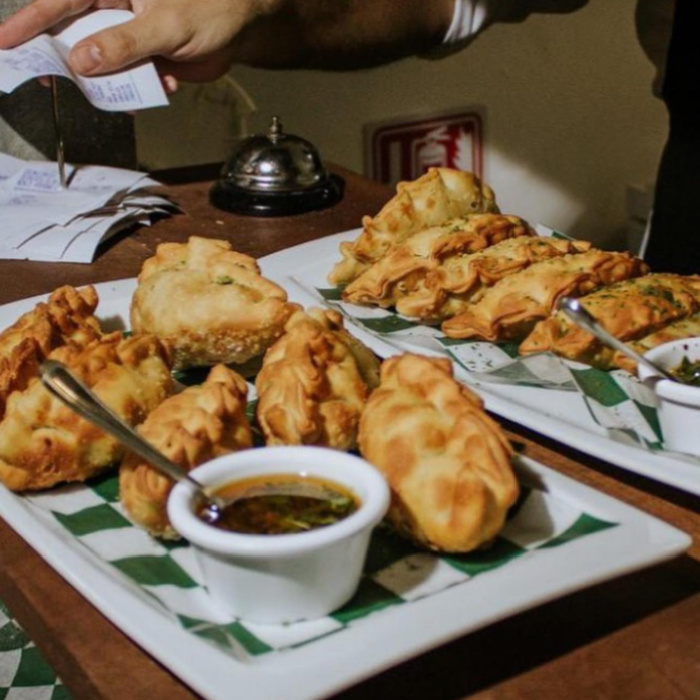 El Patio de la Milanesa Savory Empanadas
El Patio de la Milanesa
There's also a huge Argentinian community in Playa, so it's not hard to find some tasty empanadas. But the absolute best in town? El Patio de la Milanesa offers a wide range of empanadas that are truly authentic.
Another menu superstar (and what the restaurant is named for) is their milanesa, which is offered in about 20 options, all of which are mouthwateringly unique. The portions are big here, so go hungry! The restaurant itself is such a delight, too, with a cute look, a cozy and welcoming feel, and live music from local musicians.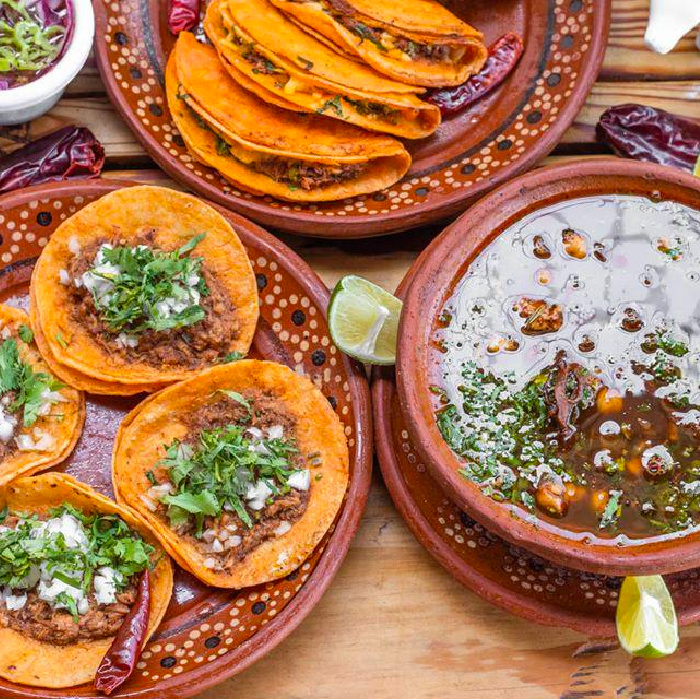 Spicy Braised Beef Delight in Tacos and Soups at Birria de la 30's
Birria de la 30
Birria de la 30 is a super authentic, hole-in-the-wall spot that's always crowded with locals. Their menu is dedicated to beef birria (spicy, stewed beef) that come in tacos or soups, with homemade hot sauces to drizzle on top. If you're a beef lover or a foodie in general, you'll be in heaven here!
Located just outside the center of town, this hidden gem often has a line (a testament to how popular it is), but for such delicious food, great prices, and friendly service, it's well worth the wait. Be sure to brush up on your Spanish to make ordering easier. And save room for a flan!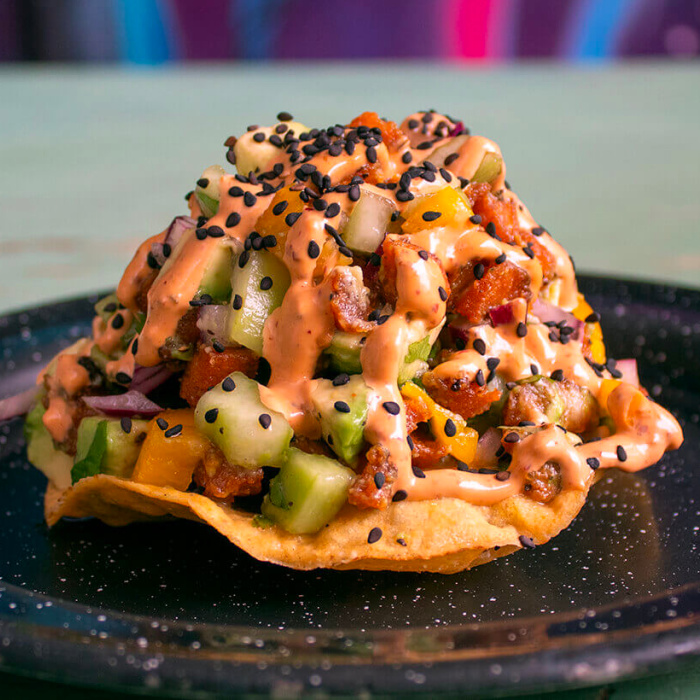 Las Hijas de la Tostada's Famous La Dorada
Las Hijas de la Tostada
Known for its tostadas, ceviche, and seafood, Las Hijas de la Tostada focuses on fresh, creative, and delicious combinations. Their vast menu offers a tasty fusion of Mexican and tropical Caribbean flavors, using only the freshest ingredients available. Top recommendations include the watermelon and tuna tostada, caramel shrimp hot tostada, and Mediterranean octopus.
You'll find plenty of locals in any of their three locations, as well as an attentive staff, a fun, lively atmosphere, and great music. It's also a great spot to pop into for some midday chips and guac, an appetizer, and a margarita.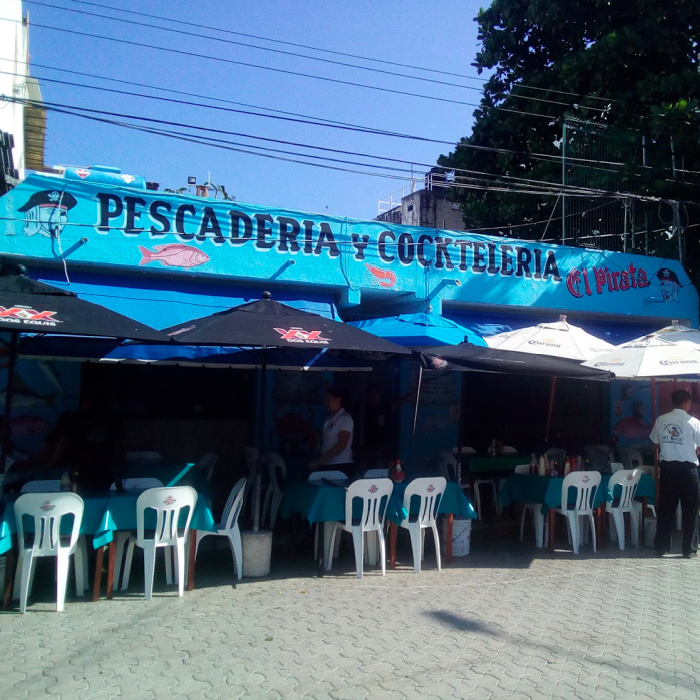 El Pirata's Open-Air Dining Experience
El Pirata
If there's one word to describe El Pirata, it's "fresh." The menu is seafood-focused, with ceviche, whole fried fish, and fish fillets being the most popular items. They're all about simple, straightforward dishes that let the fresh-caught fish and local ingredients do the talking. Everything down to the pico de gallo and guacamole is outstanding!
Located right off 5th Avenue, El Pirata is a super casual restaurant filled mainly with locals, with outdoor seating that's perfect for people-watching and enjoying the weather. The portions are generous and the prices are reasonable!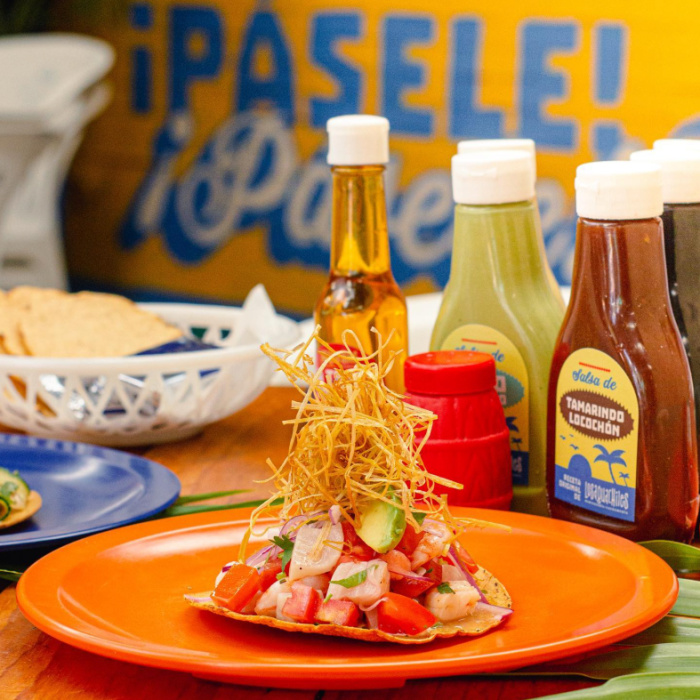 Fish and Shrimp Ceviche Toast at Los Aguachiles
Los Aguachiles
For seafood enthusiasts, Los Aguachiles is a must-visit, with offerings like impeccable aguachile, the perfect grilled octopus, incredible ceviche, and a wide range of fish tacos and tostadas. The presentation is beautiful (you won't be able to resist taking some photos of your plates!), and once you dig in, the freshness of the seafood and the quality of the ingredients will be very apparent.
You'll enjoy the fun yet relaxing environment amid both visitors and locals. Pair your meal with a passion fruit mojito or a tamarind mezcal margarita! The aguas frescas are delicious, too.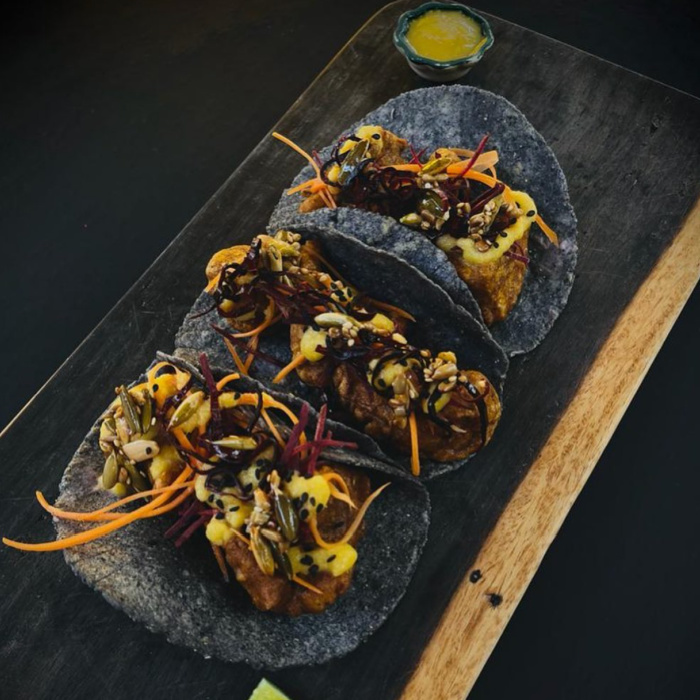 Corazón Contento's Vegan Tacos Colibri
Corazón Contento
Looking for some plant-based deliciousness? Corazón Contento is one of the best vegan restaurants in Playa, offering breakfast, lunch, and dinner. If you're coming for breakfast, try to get there early for the fresh vegan croissants! The mango milkshake and waffles come highly recommended, and the coffee is killer, too.
They serve a vegan take on a wide range of traditional Mexican dishes, and the authentic flavor and textures don't disappoint. The presentation is lovely, too. It's set in a lush and lovely garden space with a relaxing atmosphere, nice music, and friendly faces.
This guide will show you all the ways to safely and easily get from the airport to Playa del Carmen!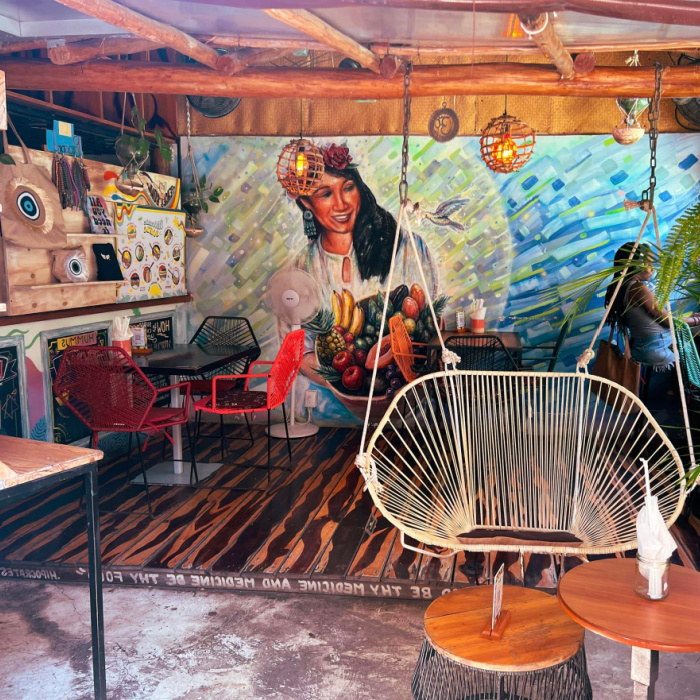 Bajo Cafe's Charming Outdoor Vibe
Bajo Cafe
Bajo Cafe is a must for coffee and breakfast in Playa. It's a super cute outdoor cafe with great vibes and delicious food that's fresh and hearty, from smoothie bowls and omelets to sandwiches and enchiladas. They have options for vegans, vegetarians, healthy eaters, or people who just want a tasty meal.
It's a favorite for both locals and digital nomads who want to get some remote work done while sipping coffee and enjoying the weather. Be sure to come back for lunch or dinner!
Another popular cafe to check out is Choux Choux Cafe. It's a great spot for breakfast for lunch, grabbing a latte, or getting some work done.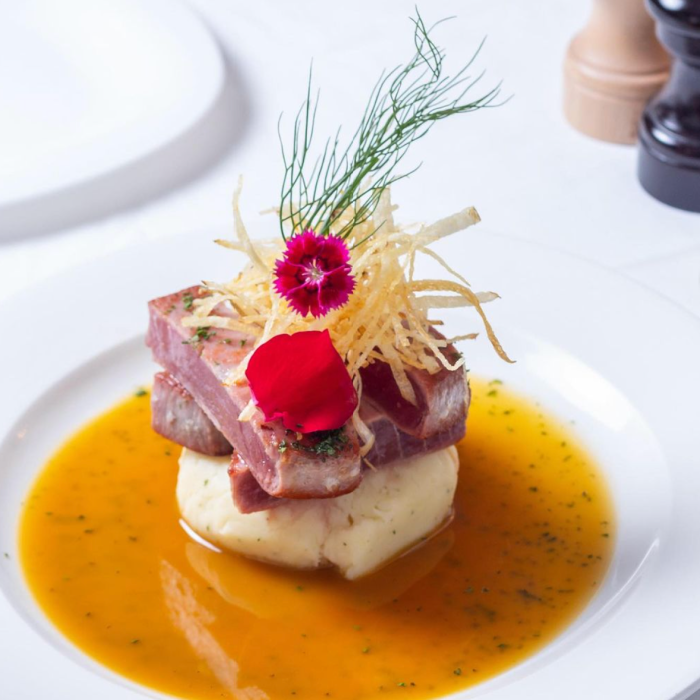 Oh Lala by George's Butter Tuna Steak
Oh Lala by George
You're in for a culinary experience like no other at Oh Lala! by George, a fine dining restaurant that's upscale yet relaxed, quiet, and cozy, perfect for special occasions or date nights. The ambiance is chic and elegant, with equally stylish plates — the presentation is truly striking.
The food is exceptional, with an international menu featuring dishes like duck confit tacos, lobster risotto, and butter soy tuna steak. Save room for the decadent desserts, and make reservations in advance, especially if you want to sit inside!
Want to know more about Women's Travel Fest? Visit our information page. Or buy tickets for the next transformative event, being held from Feb 16-19, 2024, right here!